I spent my childhood in the picturesque Finger Lakes region of western New York State and the seacoast communities of southern Maine. These areas of pastoral surroundings afforded me an early appreciation of nature's beauty and serenity. My family home was located on the stony shores of crystal clear Keuka Lake and for six years, I attended a one room country schoolhouse. My fellow classmates and I had the benefit of learning from a dynamic traveling art teacher who introduced us to drawing with expressive shapes, using the myriad of colored crayons in the art box and forever pointing out how light played on the surfaces of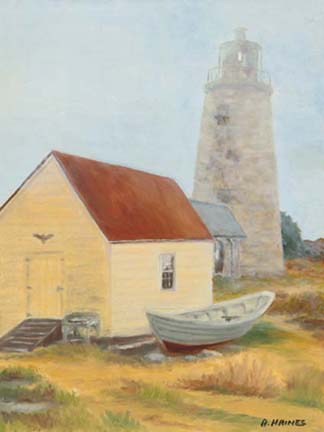 the scenery just outside our schoolroom windows. The art teacher excited my vivid imagination while my parents provided encouragement for me to observe and appreciate the outdoor environment with its changing seasons and its abundant wildlife. My three sisters and I reveled in all sorts of outdoor activities with our neighborhood friends. We spent countless hours building tree houses, toboggan runs, grass huts, and Tom Sawyer rafts. It is no wonder that I have chosen to paint scenes inspired by the natural world. I readily developed a passion for the splendor and symmetry of nature. Clearly, it was the unbridled freedom to explore all of these sensory experiences so early in my life that gave me the impetus to become an artist.
I recently retired from a fulfilling and exciting career as Assistant Athletics Director and Compliance Coordinator at Boston University. Living in the coastal community of Newburyport, Massachusetts has given me more time to devote to exploring my creative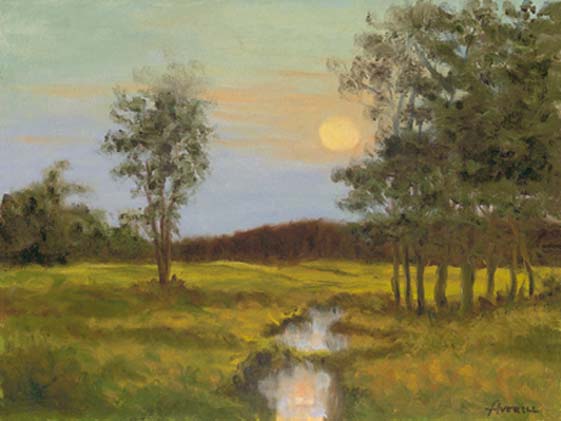 talents. I am presently a member of the Newburyport Art Association and the Seacoast Art Association in Exeter, New Hampshire and show my work at the association shows, various area art shows, and by appointment in my studio in Newburyport, MA . Some of my oil paintings have been commissioned by individuals who have seen my juried artwork in area galleries or in the private collections of friends and family.
As you view my landscapes, I invite you to stroll with me in the meadow or along the sandy beach; stand on the dock to view the boats in the bay; experience the stalwart solitude of a lighthouse or observe the ebb and flow of a tidal marsh. Whatever you choose to do, I hope you will enjoy the simple pleasures of this shared experience.